Metalworking Fluids // Metal Cutting Fluids
XP 6000
High Performance Semi Synthetic Metalworking Coolant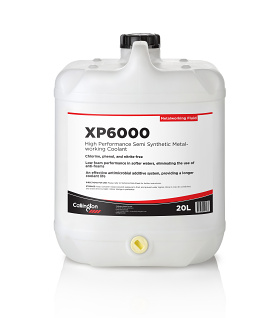 Chlorine, phenol, and nitrite-free
One product for multi-metal machining operations
Excellent coolant stability ensures consistent machining performance
Stable emulsion, with excellent wetting properties, means less drag out and lower top-up rates
Lower residues and improved machine cleanliness
Low foam performance in softer waters, eliminating the use of antifoams
Effective antimicrobial additive system providing longer coolant life
Description
Callington XP 6000 is chlorine-free, high lubricity, semi-synthetic metalworking fluid. A combination of high mineral oil content and a unique additive package provides excellent lubrication and machining cleanliness in a wide range of applications. It produces an extremely stable semi-translucent type emulsion, which provides consistent performance in a wide range of water types.
Application
Callington XP 6000 is particularly recommended for applications where a high degree of lubricity is required, as well as cleanliness and easy washout properties, such as required in HDD and electronic component machining.

It is also suitable for the machining of low to high alloy steels. It is non- staining to copper, and aluminium and its alloys, making it ideal for use in automotive, electronics, and aerospace aluminium applications.

The product's versatility and long service life make it ideal for use as a multi-purpose fluid and are equally suited for use in single sump machines and centralised coolant systems.

The recommended make up water range is 50ppm – 400ppm hardness as CaCO3.
Recommended dilutions
Material
Low Si Aluminium
High Si Aluminium
Low alloy steels
High Alloy Steels
Grinding
3-5%
3-5%
-
-
Turning
5-7%
5-7%
5-7%
5-7%
Drilling
Heavy Duty Milling
Tapping
7%
8-10%
7%
7%
Reaming
Broaching
7%
8-10%
-
-
Ordering Info
| Code | Packaging |
| --- | --- |
| 7470/64 | 20 litres |