Aviation Products // Disinfection, Cabin Cleaning & Pest Control
Ki-ose 350 R
Commercial Grade Residual Disinfectant Cleaner "Daily Defense"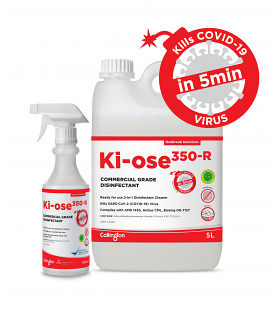 Ready to use 2-in-1 solution, eliminating the need for pre-clean process
Kills SARS-CoV-2 (COVID-19) Norovirus, Influenza A (H1N1) viruses in 5 minutes on contact (ARTG No. 336973)
Kills Pseudomonas aeruginosa, Escherichia coli (E coli), Staphylococcus aureus (Golden Staph), Enterococcus hirae, and Proteus vulgaris in 10 minutes on contact (ARTG No.336973)
Also provides residual daily defence against COVID-19 on treated surfaces for up to 24 hours
Non-flammable and non-toxic formulation
Suitable for all, aviation, transport, commercial, industrial, health services, military and any essential services industry
Good performance in the presence of organic material or soil
Can be applied with touch point cleaning, by microdiffusion with an electrostatic spraying machine, or Ultra Low Volume (ULV) fogging machines>
Description
Ki-ose 350R is a ready to use 2-in-1 high performance residual disinfectant cleaner for all hard surfaces. It provides immediate broad-spectrum disinfection in aviation, industrial, institutional, healthcare and household settings, as well as being a daily defense against germs and viruses for up to 24 hours after treatment.
Ki-ose 350R kills SARS-CoV-2 (COVID-19) virus, Influenza A (H1N1), Murine norovirus, Murine hepatitis, Pseudomonas aeruginosa, Escherichia coli (E coli), Staphylococcus aureus (Golden Staph), Enterococcus hirae, and Proteus vulgaris on contact in dirty conditions (no need to pre-clean). For aircraft, it is effective for use in galleys, on trolleys, passenger seats and tablets, luggage compartments, all surfaces in lavatories and in the cabin.
Ki-ose 350R will not harm or damage fabrics, plastic, metals, rubber or other surfaces. It complies with material comparability for all types of surfaces as per Boeing and Airbus aircraft manufacturer specifications.
Approvals
• AMS 1453
• Boeing BSS 7434
• AMS 1550
• Airbus CML
Application
Hard surface disinfectant only. Use undiluted. Do not mix with detergents or other chemicals. Not to be used on skin. Not to be used on medical devices or other therapeutic goods.
SPRAY: Spray only enough Ki-ose 350R to just cover the surface. Do not over-wet. Wipe the surface with a cloth that is pre-wet with Ki-ose 350R and allow up to 5 minutes contact time for disinfection. Do not re-wipe or rinse. For heavily soiled surfaces, a second application may be required. For food contact surfaces, rinse and dry afterwards. Use biocides with caution. Read the label before use. PPE recommendations: when disinfecting we generally recommend wearing gloves (e.g. nitrile or neoprene).
LIQUID/WIPE: Apply Ki-ose 350R liquid onto the wipe material until wet. Wipe and leave for up to 5 minutes to ensure complete disinfection. It is recommended to rinse and dry if the surfaces are in contact with food. PPE recommendations: when disinfecting we generally recommend wearing gloves (e.g. nitrile or neoprene).
ELECTROSTATIC SPRAYING: All electrostatic spraying treatments must be carried out in empty premises / areas with any air conditioning and recirculation systems switch off. Ensure all external doors are closed and any internal doors and any internal doors and small space closures are open. Positioning of electrostatic equipment must be carried out to achieve a minimum dosage rate of 8mL/m3. Electrostatic spraying applications must use the minimum amount of product and should not produce any pools or drips. If this is happening, then the product is being over-used and must be immediately wiped dry. The optimum sprayer distance is 2-3 feet (0.6-0.9m) from the surface being sprayed. Spray in an "S" like fashion from top to bottom of surface areas. Start at the opposite end of the room & progress toward the door to avoid walking through sprayed surfaces. The target particle size can range between 10μm - 50μm. To achieve this level on Victory Electrostatic sprayers, ensure to use the 'RED' nozzle setting on the spray tip. PPE recommendations: gloves (e.g., nitrile or neoprene), P2/N95 respirator or better, safety glasses with side shields or chemical goggles. Consult the Safety Data Sheet for full safety instructions. Refer to Ki-ose 350R Technical Application Spec Sheet for further instructions.
TREATMENT OF MOULD: Mould will develop over time in closed areas and workplaces where there is little to no airflow, and condensation caused by heating and cooling (WHO guidelines for indoor air quality: dampness and mould). Parked aircraft and closed workplaces are common environments where this will happen. The mould that is of concern for human health is the Aspergillus species. Ki-ose 350R has demonstrated efficacy against the species Aspergillus niger, and it is highly recommended to regularly treat all porous or semi-porous surfaces where mould spores and water can congregate with Ki-ose 350R, either by fogging or by spot treatment as appropriate.
Efficacy Data
| | |
| --- | --- |
| BACTERICIDAL |   |
| EN 1276 | P. aeruginosa, E. coli, S. aureus, E. hirae |
| EN 13697 | P. aeruginosa, E. coli, S. aureus, E. hirae |
| VIRUCIDAL |   |
| EN 14476 | Influenza A (H1N1) surrogated virus for lipophilic viruses (Ebola, Coronavirus, Flu, Hepatitis, HIV), Murine norovirus |
| ASTM 1053 | Murine hepatitis virus (COVID-19 surrogate) |
| FUNGICIDAL |   |
|  EN 13697 |  C. albicans, A. brasiliensis |
Ordering Info
| Code | Description | Packaging |
| --- | --- | --- |
| 9283/25/AU | Ki-ose 350R Commercial Grade Disinfectant | 500ml |
| 9283/42/AU | Ki-ose 350R Commercial Grade Disinfectant | 5L |
| 9283/51/AU | Ki-ose 350R Commercial Grade Disinfectant | 20L |