Fuel and Engine Treatments // Fuel Distributors and Retailers
RoxDiesel® Low Foam Cetane Concentrate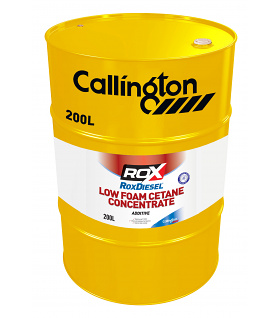 Anti-foam formula allows for high flow fillingl
Increases cetane rating of fuel
Provides more complete and cleaner combustion
Cleans injectors
Improves fuel atomisation
Cleans intake and outlet valves
Reduces noise and fuel consumption
Enhanced fuel stability in storage
Inhibits corrosion and rust
Biocidal action sludge dispersion
Description
RoxDiesel® Low Foam Concentrate with Cetane improvers allows for high flow fillings. Provides a complete diesel treatment and is specially designed to give enhanced combustion.
Application
The recommended treat rate is 1:750 for the initial treatment and 1:200 to 1:4000 for subsequent treatments.
Handling
Combustible - Do not use near open flame or heat. Keep out of reach of children. Refer to the Material Safety Data sheet for further information.
First Aid
If swallowed - do NOT induce vomiting. Give a glass of water to drink. Contact a Doctor or Poisons Information Centre. If in eyes flush with plenty of water for at least 15 minutes. If on skin, wash with soap and water.
Ordering Info
| | |
| --- | --- |
|  Item Code: |  Size |
|  8752/64 |  200L |
|  8752/1000 |  1000L |