Products // Disinfection and Cleaning Solutions
NovoRub
Alcohol based Hand Rub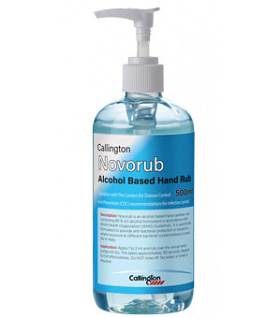 Kills 99.99% of all germs fast
Includes fresh fragrance
pH balanced and protects the skin from dryness and irritation
Formulated to meet the infection control guidelines recommended by the World Health Organisation and The US Centers for Disease Control
Available in 500ml, 5L sizes
Description
Novorub is an alcohol-based hand sanitiser rub containing 80 % v/v alcohol formulated in accordance with World Health Organisation (WHO) Guidelines. It is specifically formulated to provide anti-bacterial protection in situations where exposure to different bacterial contaminations is possible or likely.
Compliance
• World Health Organisation section 11.3 Alcohols and Table I.11.5
• The US Centers for Disease Control pages 3 and 8
• Therapeutic Goods Administration Australia
Application
Apply 1 to 2 ml and rub over the whole hand surface till dry. Ensure an even exposure over all the surfaces of the hands and rub between the fingers and on the back of the hands. You do not need to rinse your hands after use. No other washing or rinsing is required. For soiled hands wash with soap and water before using Novorub.
Physical Properties
| | |
| --- | --- |
| Appearance: | Clear liquid |
| Colour: | Blue |
| Density: | 0.85 |
| pH: | 7.0 |
Ordering Info
| Code | Size | Units/carton |
| --- | --- | --- |
| 9028/25 | 500ml | 12 |
| 9028/42 | 5L | 4 |