Welding & Metal Treatment Products // Surface Treatment
Electro Chem
Stainless Cleaning Fluid for Electronic Cleaning Machines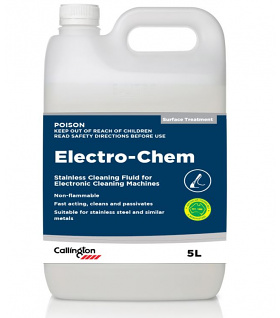 Works with many brands of TIG/ brush cleaners
Non-flammable, making it workshop safe
Fast acting, cleans and passivates
Suitable for stainless steel and similar metals
Easily rinsed off, reduces cleaning times
Description
Callington Electro-Chem Cleaning Fluid is a liquid chemical designed to be used in conjunction with popular electrochemical cleaning devices for the removal of post weld contamination on stainless steel surfaces via an electrolytic action.
Callington Electro-Chem is suitable for use on the following welding methods:
Spot Welding
TIG Welding
Plasma Welding
Laser Resistance Welding
Orbital Welding
Direction for use
After completion of the cleaning process any excess fluid can be easily removed by washing/wiping down with clean potable water. The operation should be carried out in a well-ventilated area and the operator must follow all operating and safety instructions set down by the machine manufacturer.
The fluid is acidic by nature and PPE should be worn when handling please refer to the MSDS for further safety instructions.
Ordering info
| Code | Packaging | Units/Carton |
| --- | --- | --- |
| 1920/42 | 5 litres | 4 units |