Metalworking Fluids // Surface Treatment Fluids - Cleaners and Rust Preventives
MTC 50
Machine Tool System Cleaner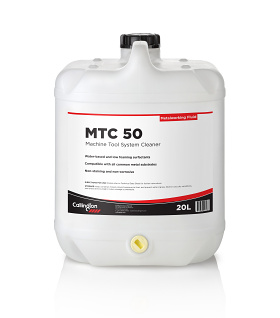 Low foaming and compatible with most water-soluble metalworking coolant types
Highly effective against bacterial and fungal contaminations
Compatible with all common metal substrates, non- staining and non-corrosive
Maintains machine tool systems in clean
Description
Callington MTC 50 is a mildly alkaline, water-based, heavy-duty machine tool and system cleaner. It is based on highly effective, low foam surfactants, and anti-microbial agents, which provide rapid and efficient cleaning and sterilisation.
Application
Callington MTC 50 is specially formulated to deal with the range of contaminants encountered in machine tool systems, using water-based coolants. This contamination includes fatty and heavy oil build-up in pipework, floor return channels and floor ducts, tramp oil layers, bacteria, and fungi.

Regular use at fluid change over time is highly recommended, as the adoption of the simple clean-out procedure dramatically reduces coolant related problems and ensures maximum coolant sump life.
Ordering Info
| Code | Packaging |
| --- | --- |
| 7010/42 | 5 litres |
| 7010/51 | 20 litres |