Fuel and Engine Treatments // Refineries & Terminals
RoxDiesel® Cetane Improver Concentrate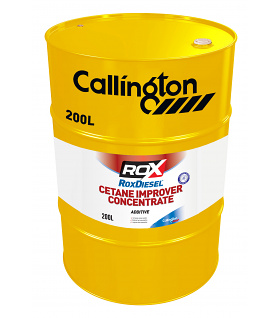 Increases cetane rating of fuel
Delivers 5% saving in fuel consumption, as tested on a truck fleet over 250,000 km
Reduces Adblue consumption by 10-15%, as tested on a truck fleet over 250,000 km
Reduces engine wear
Reduces particulate matter and NOx emissions
Cleans combustion chamber and injector deposits
Enhanced fuel stability
Reduces noise, vibration and corrosion
Description
RoxDiesel® Cetane Improver Concentrate is a multi-functional ashless organic fuel additive. It provides a complete diesel treatment and is specially designed to give enhanced combustion through the addition of Cetane improvers. ROX® 9300C Cetane will turn your regular diesel into a premium fuel at half the dose rate of our regular ROX® 9300C.


Application
The recommended treat rate is 1:750 for the initial first-time treatment and 1:2000 to 1:5000 for subsequent treatments.
Handling
Combustible - Do not use near open flame or heat. Keep out of reach of children. Refer to the Material Safety Data sheet for further information.
First Aid
If swallowed - do NOT induce vomiting. Give a glass of water to drink. Contact a Doctor or Poisons Information Centre. If in eyes flush with plenty of water for at least 15 minutes. If on skin, wash with soap and water.
Ordering Info
| | |
| --- | --- |
|  Item Code: |  Size |
|  8762/30 |  1L |
|  8762/42 |  5L |
|  8762/51 |  20L |
|  8762/64 |  200L |
|  8762/1000 |  1000L |