Products // Paint Strippers
Professional Grade Paint Stripper
Solvent-Based, Non-Caustic Paint Stripper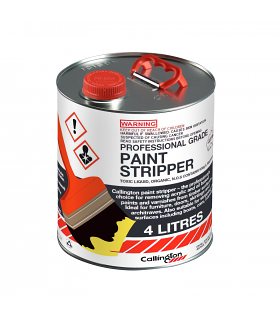 Suitable for automotive, marine, household and industrial applications
Contains evaporation retarders and thickeners
Non-flammable
Description
Professional Grade paint stripper is a solvent based, non-caustic, heavy bodied paint remover for stripping most types of household, automotive, marine, and industrial paints.
Application
Paint Stripper can be used to remove the most commonly used paints, lacquers, and varnishes from timber, metal, glass, brickwork, cement, and plaster.
Directions for use
See Technical Data Sheet for specific information.
Physical Properties
| | |
| --- | --- |
| Appearance: | Clear viscous liquid |
| Odour: | Ammoniated |
| Specific Gravity:   | 1.2 |
| | |
| --- | --- |
| Shelf Life:             | Up to 12 months |
|   |   |
Ordering Info
| Product Code    | Packaging |   |   |
| --- | --- | --- | --- |
| 6000/39 | 4 litre |   |   |
| 6000/51 | 20 litres  |   |   |
| 6000/64 | 200 litres |   |   |
|   |   |   |   |
|   |   |   |   |
|   |   |   |   |