Products // Industrial Cleaners & Degreasers
CalCrete
An organic acid alternative cement and concrete remover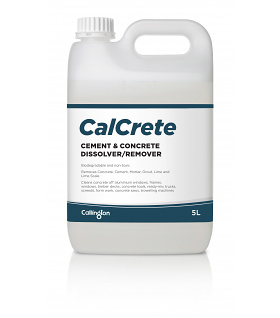 Fast-acting - CalCrete quickly softens and dissolves cement, concrete, grout, and limescale
Contains naturally occurring actives in place of harsh acids commonly found in similar products
Does not contain sulfuric acid, muriatic acid, hydrochloric acid, or phosphoric acid, making it low-toxic and readily biodegradable
Low corrosivity, safe for use on various surfaces
Low odour, no fumes, and non-flammable
Description
CalCrete is a non-toxic, biodegradable cleaning liquid designed to dissolve and remove dry, hardened cement, mud, concrete, water deposits, and limescale build-up. It quickly breaks down cement into a paste, penetrates deeply into concrete residues, and adequately reacts with particles from within. CalCrete is safe for cleaning windows, aluminum frames, timber decks, Colorbond, concrete hand tools, formwork, screeds, and troweling machines.
Application
Do not wet the surface before applying CalCrete. Test the product on a non-critical area before using it.
Spray or brush the area with CalCrete until it is completely wet. The surface will turn white on contact. Allow CalCrete to soak for at least 10-15 minutes. For stubborn or long-term build-up, re-apply to the same area and keep the surface wet.
The build-up will start to soften. Rinse with cold water to remove the residue. Power wash (1,000-3,000 psi) equipment and parts to remove residual concrete in extra tough areas.
Ordering Info
| Product Code | Packaging |   |
| --- | --- | --- |
| 5173/28 | 750ml |   |
| 5173/42 | 5L |   |
| 5173/51 |  20L |   |
| 5173/64 | 200L |   |