Aircraft Inflight // Passenger & Crew Protection
Skin2P & Screen2P Wear Kit
Insect Repellent Kit for Skin & Clothing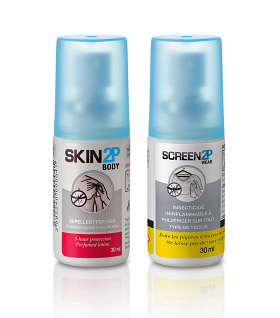 Convenient full protection packs of 30ml or 100ml bottles
Icaridin insect repellent providing 8 hours of protection
Clothing insdecticide can last up to 5 x washes
Description
The Skin and Cloth Repellent Kit had been developed to protect travellers from insect bites. This kit is specially recommended in risk areas where insects are diseases vectors like malaria, lyme disease, dengue fever, chikungunya and others.
Application
Ideal in tropic areas, on Aedes, anopheles and Culex strains. May be applied to the entire body except the mucous membranes. Suitable for children who are 6 months and above and women who are pregnant.
Directions for Use
Skin2P
1. Spray directly onto the body parts to be protected. For the face, spray the product onto your hand first, then rub in. Ensure your skin is dry.
2. Spread the repellent evenly.
3. Repeat the application 2 - 3 times a day.

Screen2P
1. Shake well and then spray evenly 20 cm from the garment (distance between the nozzle / surface).
2. Apply 1 or 2 sprays to the same area, to get the dose required.
Physical Properties
| | |
| --- | --- |
| Skin2P Body (30mL): | Icaridin 20.6% |
| Screen2P Wear (30mL): | Permethrin 4% and Geraniol 0.9% |
Ordering Info
| Code | Packaging | Region |
| --- | --- | --- |
| AR0006679 (EN) | 50 x 30ml kit per carton | Globally |
| AR0006678 (EN) | 25 x 100ml kit per carton | Globally |
| AR0006677 (FR) | 50 x 30ml kit per carton | Globally |
| AR0006497 (FR) | 25 x 100ml kit per carton | Globally |