Products // Industrial Cleaners & Degreasers
Actasol EWipes
High Flash Point Electrical Solvent Cleaner and Degreaser Wipes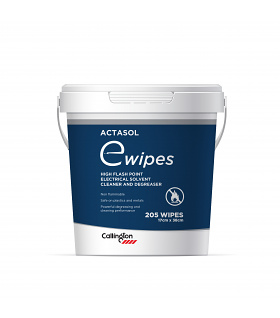 Residue free cleaning
High Flash Point – Non flammable
Powerful degreasing and cleaning performance
Helps to reduce installation faults, ensuring maximum cable life
Safe on plastics and metals
Pleasant citrus scent
Low solvent consumption and long working time
Reduces VOC emissions
Use on PVC, MDPE, Lead, Aluminium, XLPE, EPR, Copper, Silicon, EPDM and Brass
Compatible with aluminium, titanium, cadmium, magnesium, carbon steel and acrylic plastic to Boeing and Airbus standards (BSS7432, AMS1526, AMS 1536)
Description
Actasol EWipes Electrical Solvent Wipes are used to clean and degrease cables prior to cable jointing. The wipes are suitable for high, medium and low voltage applications. They are infused with high flash point solvents that make the wipes non-flammable. This residual free solvent cable cleaner removes greases, jelly, soils, tar and bitumen residues, corrosion inhibiting compounds and oils from surfaces. The solvent formulation has low volatile organic compound (VOC) emission which makes it an environmentally friendly product. The wipe material is also eco-friendly.
Directions for use
General Usage 
Wipe and apply the electrical safety solvent using the pre-saturated wipe and let the solvent dissolve and remove soils from surfaces. After a few minutes, use the wipe to clean off the soil from surfaces. Dispose used wipes into dedicated solvent bins.
Cable Cleaning (Jointing Operations)
1. Follow cable manufacturers guidelines for cable jacket stripping to semi-conductive shield peeling.
2. Clean the cable with wipes – conduction and insulation – to remove residue and degrease.
3. Always clean in the same direction from cable outward (conductor) to cable inward (semi-conductive shield) to avoid re-depositing residues already removed.
4. Wipe off with a clean, dry low lint cloth (recommended).
5. It is not necessary to wait for full evaporation before further working on the system. Solvent residues will not affect the subsequent full cure of epoxy resins in jointing systems.
6. Dispose of all wipes in an appropriate bin.
Ordering Info
| Product Code | Packaging |
| --- | --- |
| 5354 | 205 Wipes Tub |