Products // Disinfection and Cleaning Solutions
Ki-San (Australia & NZ market)
Hospital Grade Disinfectant Cleaner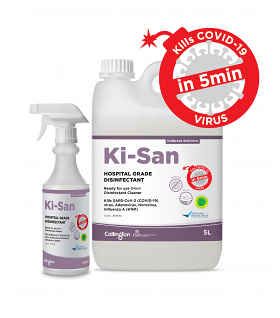 Kills 99.99% of most harmful bacteria and viruses
TGA listed for COVID-19 claim (ARTG No. 367530)
Kills SARS-CoV-2 (COVID-19) virus in 5 minutes, Murine hepatitis, Norovirus, Adenovirus, Influenza A (H1N1), Escherichia coli (E coli), Pseudomonas aeruginosa, Proteus vulgaris & Staphylococcus aureus (Golden Staph)
Ready to use 2-in-1 solution, high level disinfectant cleaner
Description
Ki-San is a ready to use 2-in-1 high performance disinfectant cleaner for all hard surfaces. Kills viruses and bacteria, it provides broad spectrum disinfection in industrial, healthcare environments, shopping centres, schools, universities, and household settings. ARTG listed Ki-San kills SARS-CoV-2 (COVID-19), Norovirus, Adenovirus, Influenza A (H1N1), Murine hepatitis, Escherichia coli (E coli), Pseudomonas aeruginosa, Staphylococcus aureus (Golden Staph), Proteus vulgaris.

Ki-San will not harm or damage fabrics, plastic, metals, rubber or other surfaces. It is safe and suitable for use on high touch point areas such tabletops, door handles, light switches, desks, toilets and toilet doors, taps, TV remotes, kitchen surfaces and cupboard handles. Hard surface disinfectant only. Use undiluted. Do not mix with detergents or other chemicals. Not to be used on the skin. Not to be used on medical devices or other therapeutic goods.
Directions for use
SPRAY: If surfaces are soiled, pre-clean with Ki-San before disinfection. For clean surfaces, spray only enough Ki-San to just cover the surface. Do not over-wet. Wipe the surface immediately with a cloth that is pre-wet with Ki-San. No need to re-wipe or rinse. Allow up to 5 minutes for viruses and 10 minutes for bacteria. For food contact surfaces, rinse and dry afterwards. Use biocides with caution. Read the label before use. Store below 300C.
Applications
• Bathrooms – sinks, toilets, showers, tiled surfaces and any other hard surfaces • Phones and Communication devices
• Nurseries – change tables, cleaning stations, cots, cribs
• Bodily fluids and blood spills on any hard surfaces (excludes medical devices)
• Cleaning of theatre equipment and cables (excludes medical devices)
• Cleaning of tables in operating theatres (excludes medical devices)
• Intensive Care Units – Disinfecting and cleaning of all hard surfaces (excludes medical devices)
• Dental & GP Surgeries for disinfecting and cleaning surfaces including stools, tables, benches and light fittings. (excludes medical devices)
• Laboratories and clinics – wiping down of benches, cupboards
Ordering Info
| Code | Description | Packaging |
| --- | --- | --- |
| 9196/25 | Ki-San Hospital Grade Disinfectant (trigger) | 500ml |
| 9196/42 | Ki-San Hospital Grade Disinfectant (pail) | 5L |
| 9196/51 | Ki-San Hospital Grade Disinfectant (pail) | 20L |