Metalworking Fluids // Metal Cutting Fluids
CalCool S1
General Purpose Soluble Metalworking Fluid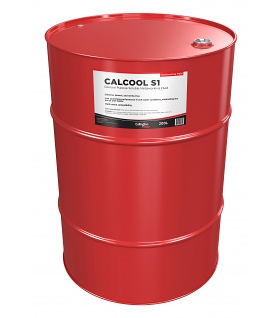 Versatile, multi-metal compatible
Low scumming performance in hard water environments, providing cleaner working conditions
Low foam performance in soft water conditions, eliminating the use of antifoams
Effective biocide system, to prevent bacterial degradation, and extend coolant life
Boron free and reduced residue characteristics
Chlorine, phenol, and nitrite-free
Description
Callington Calcool S1 oil is a chlorine and boron free, general-purpose soluble metalworking fluid.

Its high mineral-oil content and the unique additive package provides excellent lubrication properties, forming a milky type emulsion, providing consistent performance in a wide range of water types.
Application
Callington Calcool S1 is suitable for use in small to medium general machine shops, where general machining operations, on a range of materials, require a stable product, offering versatility at a reasonable cost.

Callington Calcool S1 is particularly recommended for the machining of low – medium alloy steels and aluminium alloys. It is non-staining to aluminium alloys.

The recommended water range is 50ppm- 400ppm hardness as CaCO3.
Recommended dilutions
Material
Low Medium Alloy Steel
High Alloy Steel
Aluminium Alloys
Operation
5%
4-5%
5%
Turning
Milling
Boring
Drilling
Sawing
4%
4%
4%
Tapping
7%
8-10%
7%
Threading
Ordering Info
| Code | Packaging |
| --- | --- |
| 7802/51 | 20 litres |
| 7802/64 | 200 litres |