Callington's Sherwin DUBL-CHEK DP-50 Dye Penetrant: One Product – Dual Use
Sep 20, 2018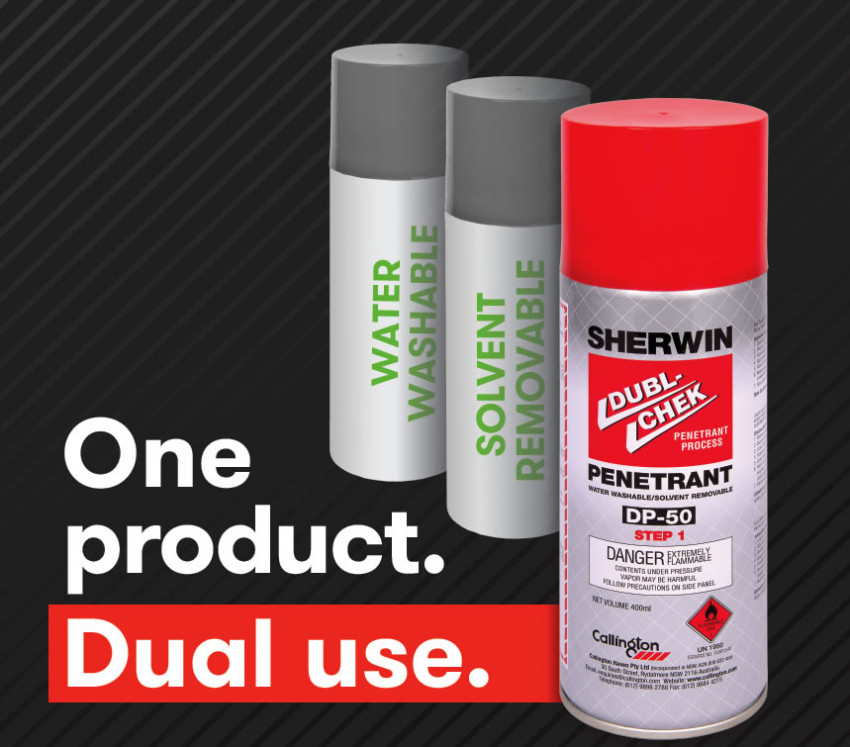 In demanding industries such as aerospace, oil and gas or manufacturing, it is important to have the right products on hand at the right time to ensure tasks are completed in the most efficient and effective manner.  For visible dye penetrant testing, DP-50 Dye Penetrant is one such product, making life simpler for those who conduct Non-Destructive Testing.  As a leading producer of chemicals for airlines and industry, Callington promotes DP-50 Dye Penetrant to ensure technicians and engineers are equipped with the right solution for their testing requirements, no matter which testing processes have been specified.
As one of the more common types of Non-Destructive Testing methods, visible dye penetrant testing or "colour contrast" testing is used by industry to locate faults or defects in materials without damaging the part being examined. It is used to inspect for surface flaws in ferrous and non-ferrous metals, ceramics, glass and plastics, where the surfaces are nonporous. For each liquid penetrant  test undertaken, the type of spray required will be specified as either being a "water washable" or a "solvent removable" dye penetrant. While one option is to stock two separate products (as offered by some manufacturers) DP-50 Dye Penetrant can satisfy the requirements of either type of process, being both solvent removable and water washable.
In the penetrant testing process, DP-50 Dye Penetrant is applied after initial part cleaning and is sprayed evenly across the surface. The spray is left for the required "dwell time" to penetrate any faults or cracks. The amount of dwell time depends on factors such as the material being tested and temperature, and ranges from between 5 to 30 minutes.  Following complete removal of the dye with a moistened lint free cloth using either DR-60 Cleaner Remover or water, D-100 Developer is applied. The D-100 Developer helps draw DP-50 Dye Penetrant back to the surface, identifying any flaws and cracks previously not visible.  The intense red colour of the DP-50 Dye Penetrant brings any flaws sharply into focus within minutes.
DP-50 Dye Penetrant is highly sensitive, able to find microscopic surface cracking and provide long-lasting flaw-mark indications. DP-50 has been tested to meet the requirements of the applicable standards including ASME Boiler and Pressure Vessel Code Section V, MIL-I-25135, ASTM E1417, ASTM E165, AS 2062, MIL-STD-6866 and MIL-STD-271. It is also listed by the US Department of Defence as an approved visible dye penetrant for methods A and C (Solvent Removable Visible Dye Penetrant and Water Washable Visible Dye Penetrant) and has been proven to perform over a large temperature range.
With its dual application specifications, DP-50 Dye Penetrant simplifies the testing process by enabling just one product to satisfy either option. To the busy engineer or technician, DP-50 Dye Penetrant makes perfect sense: why have two products when one can do both?