Aviation Products // Aircraft Insecticides
Top of Descent
Aerosol Aircraft Insecticide for Top of Descent & Blocks-Away Cabin Spraying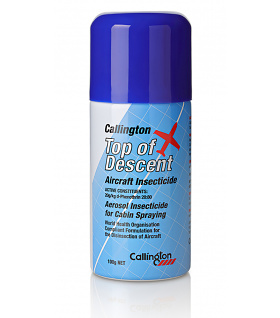 Tested and approved to Boeing, Douglas & AMS Specifications
Complies with Airbus CML 14-010B
Non-flammable aircraft insecticide 
Used for either Top of Descent or Blocks away spraying methods 
Packaging: 12 x 100-gram cans per carton.
Description
Callington Top of Descent is a non-flammable aircraft approved aerosol insecticide for use inside the cabin of aircraft, just as it shifts from cruise phase to descent. This product is used to prevent the spread of vector-borne diseases, such as Dengue Fever, Yellow Fever, Malaria, Chikungunya and Zika. It is also effective against a range of agricultural pests, which present a biosecurity risk.
Aircraft approved Callington Top of Descent effectively kills mosquitoes and other flying and crawling insects. It is used for either "Top of Descent" or "Blocks-Away" spraying methods in accordance with respective national Quarantine regulations.
Callington Top of Descent contains a non-flammable propellant and the World Health Organisation recommended active substance of 2% w/w phenothrin.
.
Approvals
Callington Top of Descent complies with the World Health Organisation specifications for aircraft insecticides and has the following approvals.
Boeing D6-7127 and AMS 1450A
NATO Stock Number: 6840-66-097-6309
CAGE: Z5104
In compliance with IATA Medical manual & ICAO Annex 9
Complies with Ministries of Health & Agriculture, globally
Callington is an ISO 9001:2015 quality accredited company
Application
Top of Descent is to be used for inside the cabin of aircraft, just as it shifts from cruise phase to descent. 
Treatment Procedure
Before commencing treatment, all overhead and sidewall lockers must be closed.
Air conditioning systems should remain set to normal flow and the recirculation fans on for this procedure.
Hold one can of Callington Top of Descent, start spraying from the back of the aircraft moving forward, keeping a steady walking pace.
Can(s) should be kept at arm's length and directed away from passengers and towards the ceiling and closed overhead lockers.
When one side of the aircraft is complete, switch aisles, spraying all the way until you reach the rear of the aircraft.
Do NOT spray directly on exposed food, food preparation areas, or food utensils.
Spraying of cabins shall be carried out at a standard spray rate of 1g per second and based on a required coverage rate of 35g/100m3.
Verification
The applicator is responsible for ensuring that a certificate detailing the treatment is completed. For compliance purposes, the applicator must record the product serial number, located on the underside of the can. The certificate for top of descent cabin disinsection and the exhausted or partly exhausted cans must be carried onboard the aircraft and made available to an officer/inspector on request upon arrival.
Ordering Info
| | | |
| --- | --- | --- |
| Item Code | Size | Units per carton |
| 4502/100 | 100g | 12 |