Welding & Metal Treatment Products // Surface Coatings
Silver Zinc Guard Protect
High Performance Zinc Coating for Long Lasting Corrosion Resistance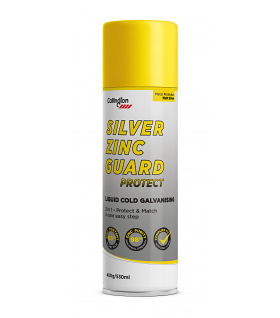 Complies to ASTM A780/A780M* - 65% zinc in dry film
2 -in-1 formula to protect & match in on easy step
Superior adhesions properties, allowing for long term protection
98% zinc purity
Ready to use aerosol with no additional mixing or additives required
Description
Callington's Silver Zinc Guard Protect is a zinc spray containing metallic zinc, which protects clean steel in the same manner as hot dip galvanising, i.e. by cathodic reaction.
Silver Zinc Guard Protect gives exceptional long-term protection against rust and corrosion and weathers to the same colour as normal galvanising. It is ideal for touch-ups and to hide welded joints on metal structures. It's suitable for all types of ferrous (mild and heavy gauge steel) substrates.



Direction for use
Refer to Technical Data Sheet for detailed instructions.
Application
Callington Silver Zinc Guard Protect can be used in many applications such as; fabrication, construction, over welding, bridges, fencing, structural, steel, hot dip deep repairs, boats and marine equipment, electrical installation equipment, air conditioning, heating systems, tanks, pipes, underground equipment, wrought iron, handrails, balustrading, and signposts.
Ordering info
| Code | Packaging | Units/Carton |
| --- | --- | --- |
| 1481P/400 | 400gram aerosol | 12 units |